Inside of SAP Web Intelligence you can create a number of administrative area maps with boundaries right out of the box.
Create the Map
STEP 1: With the Webi Report in Design mode, go to the "Chart" ribbon, click on "More"
STEP 2: Click on "All Charts"
STEP 3: Select the CMaps Analytics chart. Though we recommend using CMaps Analytics, your admin can change the category.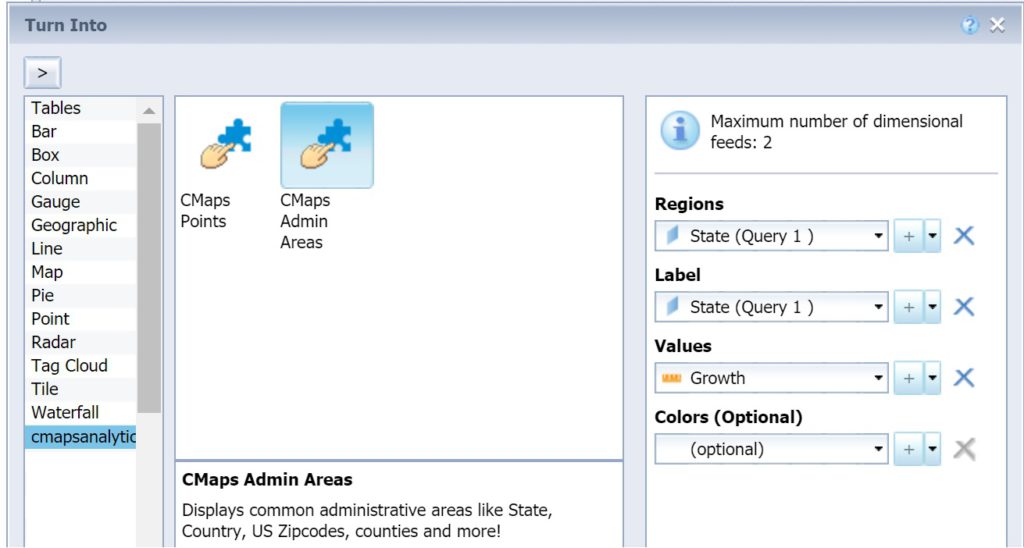 Step 4:Â Select CMaps Admin Areas
DON'T SEE CMAPS?: Please review the administrator guide
Add Data to your Map
Step 5Â Select the data fields to populate the map.
NOTE: To view a map on the canvas you must define a Location at minimum.
Regions (required)
CMaps Analytics supports a number of standard administrative areas including but not limited to:
Dynamic geocode 
Country
Province / state (global coverage)
US Zip
Other included administrative Areas
Canadian FMA
US Urban Areas (cities)
Congressional Districts
Custom Regions (coming soon)
Labels
Labels are displayed on the map when you select a pin or region.
Values
Values are numeric measures, utilized for the analysis and visualization options available in CMaps Analytics. You will bind this to a measure column.
Colors
Color codes to dynamically using color codes. Example: #00FFF
Step 6: Press OK
Your map will now appear
NOTE: To view a map with data your Webi must be in Design mode "with Data". Otherwise when the map is set to "Structure Only" your map will be hidden as shown in the image below:
Change the Map Appearance Properties
STEP 7: Move your mouse to the outer edge of the visualization until the mouse cursor changes and right click. OR change the Webi design mode to "Structure Only." This will allow you to move the mouse anywhere on the map so you can right click.
 OR 
STEP 8:Â  When right clicking, click "Format Custom Element"
Step 9: In the Format Custom Element window, select area "CMaps Properties"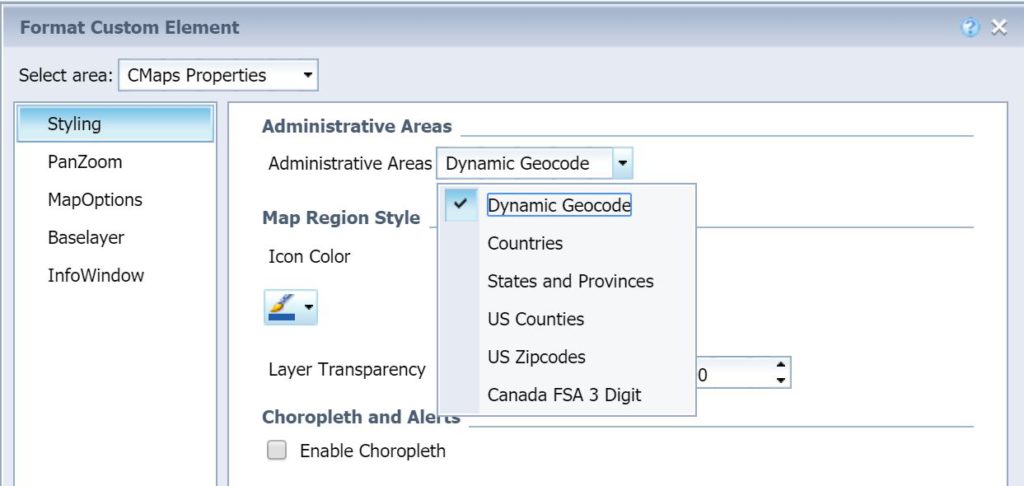 STEP 10:Â If your Region data property contains an administrative area that is not supported by the Dynamic Geocode feature documented in step 5, select the correct Administrative Area.
Feel free to explore other properties, and behavior options in using the following tutorials: