Log into SAP BusinessObjects Enterprise CMC
Click on the Applications tab.

Select the "Extensions" tab.
If no "Extensiosn" tab exists, you may be running a version of SAP BusinessObjects Enterprise and Lumira earlier than supported version. Please view the Lumira System Requirements documentation.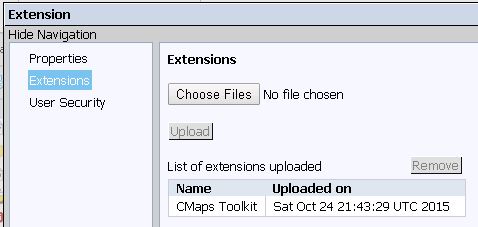 Click "Choose Files"
Browse to the location on your computer with your CMaps Analytics extension for Lumira. When selecting an extension, it will start with the prefix "centigonsolutions.viz.ext"
Press Upload
Press Ok
Now, when you upload Lumira powered storyboards, you will gain the ability to visualize files containing CMaps Analytics views.